Today 17th of Aug 2022
Mostly sunny weather: Weak high pressure conditions.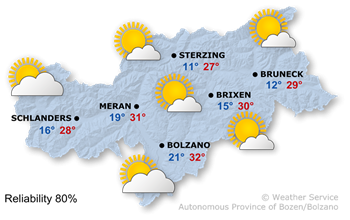 The weather
Sunny weather with some clouds during the day. Slightly increasing probability of showers in the evening. High temperatures between 25° and 32°.

Mountain weather
Good conditions, sunny weather with cumulus clouds in the afternoon. Possibility of local showers in the evening.
Altitude wind
Moderate southwesterly (10-19 mph)
Sun
Sunrise: 6:17
Sunset: 20:22
Moon
Sunrise: 23:01
Sunset: 12:32
Tomorrow 18th of Aug 2022
Unstable: A low pressure system over France will bring humid and unstable air to the Alps.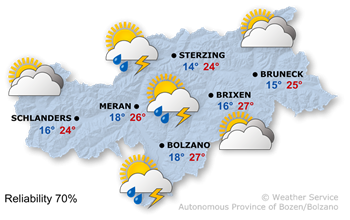 The weather
Variable conditions, a mix of clouds, some sunny spells and some thunderstorms during the day. Maximum temperatures from 22° to 27°.
Mountain weather
In general cloudy conditions with some rain showers and thunderstorms moving through from Southwest.
Altitude wind
Moderate southwesterly (10-19 mph)
Sun
Sunrise: 6:18
Sunset: 20:20
Moon
Sunrise: 23:23
Sunset: 13:43

friday
19
Cloudy, moderate rain
Max: 20 - 25°C
Min: 12 - 17°C

saturday
20
Cloudy
Max: 21 - 31°C
Min: 10 - 15°C

sunday
21
Partly cloudy
Max: 21 - 31°C
Min: 8 - 16°C

monday
22
Partly cloudy
Max: 22 - 31°C
Min: 7 - 17°C