Today 2nd of June 2023
Quite sunny: The weather situation will not change little. South Tyrol remains under weak high pressure influence.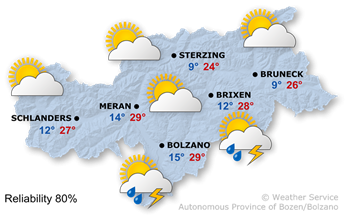 The weather
Sunny weather. In the afternoon some cumulus clouds will form and isolated rain showers or thunderstorms are possible. Highest temperatures from 24° to 29°.

Mountain weather
Cumuliform clouds in the afternoon will locally reduce the visibility, otherwise sunny. During the day, isolated showers or thunderstorms may develop.
Altitude wind
Light northeasterly (3-9 mph)
Sun
Sunrise: 5:27
Sunset: 21:00
Moon
Sunrise: 19:25
Sunset: 4:04
Tomorrow 3rd of June 2023
Unstable weather: The weather will be influenced by unstable air masses.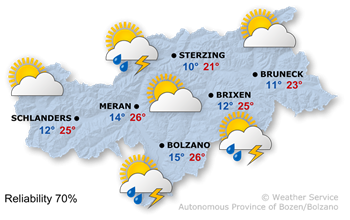 The weather
Initially sunny weather, but with a tendency for cumuliform clouds to develop with a slight increase in the probability of showers already in the morning. In the afternoon, the phenomena will be more widespread and even thunderstorms. Improvement in the evening or night. Maximum temperatures up to 21°/26°.
Mountain weather
Visibility in the mountains will tend to worsen with the development of cumuliform cloudiness. Especially in the afternoon, showers, even thunderstorms, are likely.
Altitude wind
Light southwesterly (3-9 mph)
Sun
Sunrise: 5:26
Sunset: 21:01
Moon
Sunrise: 20:45
Sunset: 4:31
The next days
Variable: On Sunday the sky will be variably cloudy with showers especially in the second part of the day. Temperatures falling slightly. Low clouds will be possible in the morning in the valleys. On Monday, clouds will prevail with a few showers or thunderstorms. Tuesday will begin with low clouds and sunny spells. In the warmer hours new showers will form. On Wednesday, conditions will not change with variable cloudiness and scattered showers.

sunday
04
Cloudy, thunderstorm with moderate shower
Max: 19 - 26°C
Min: 9 - 16°C

monday
05
Cloudy, moderate rain
Max: 19 - 26°C
Min: 7 - 15°C

tuesday
06
Cloudy
Max: 20 - 27°C
Min: 8 - 15°C

wednesday
07
Cloudy
Max: 20 - 27°C
Min: 8 - 16°C